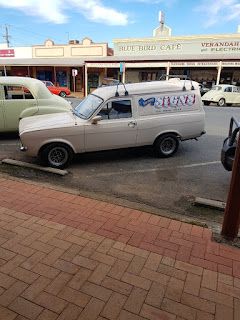 Vintage cars
I was trawling through my Face Book timeline when I came across a post from Spirit of the Land Lockhart regarding an upcoming vintage car muster. I thought HR and I should check it out as I have always loved the cars of my youth and those that were born before me.
I ascertained that HR was available and then started arranging the trip. We figured Wagga Wagga would be a good place to stay the night before the muster and so I booked the International Hotel for the friday night. What a fantastic choice! This hotel is beautifully appointed with a gorgeous bathroom and sumptuous king size bed. The best thing about this hotel though? DOUBLE GLAZING yes boys and girls double glazing. Zero noise from the street. The next best thing? The thickness of the concrete between the upper and lower floors. You cannot hear anything from those rooms above you. We have paid $300.00 a night for first class hotels and still had to contend with the noise from people moving around above. The block out drapes on the windows provided extra insulation from noise and light.
This hotel was so quiet and restful that we didn't even open our eyes until after 0900!!!!!!!!!
The next time we use Wagga as a base for a trip we will be staying at this hotel!!
The restaurant at the International hotel, Allure, was really quite good value. Tasty food prepared well and served by friendly engaging staff. I loved the  Smoked Salmon and Feta Bruschetta followed by salt and Pepper Squid and HR made a mess with the Crispy mild spiced chicken wings but was a bit nonplussed when the pasta of the day was actually a risotto!! I enjoyed a nice Warburn Rumours Moscato and HR had a couple of  Crown Lagers. Dessert was a shared Fig and Date pudding|butterscotch sauce|Chantilly cream  and fresh strawberries.
After a hurried start to the day on the Saturday we motored on out to Lockhart and looked for a suitable eating place for a late breakfast. We stumbled across Latte da Coffee Bar.  HR reckons the coffee was good and I reckon the egg and bacon roll was awesome!! Another fantastic little shop in Lockhart is Sweethearts. Typical country service, people having a yarn and being helpful.
The cars arrived just after 1100 and were worth every minute and penny spent to go and see them. Some of my favourites are bellow.