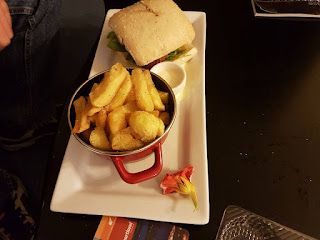 The Land of the Long White Cloud – Christchurch and Beyond
A few years ago HR and I thought we might like to go to New Zealand, specifically the South Island.
We thought we'd fly in, hire a car and drive around the island stopping in major towns and doing some fun things- wine tours, brewery tours, glacier walks etc.Life got in the way and we shelved the idea.
Last year we revisited the idea, engaged a travel consultant and created an itinerary, checked the cost and booked the trip for March 2017.
We flew into Christchurch on a sunny afternoon in March, breezed through Customs and went to pick up our hire car. The car is an older model fairly comfy but……..no aircon!!! not even a fan!! So we asked the young lady for another car and she sent us to the depot. At the depot the nice young man upgraded us to a newer car with working aircon. In the words of the Mini Brat it was an 'obnoxious as fuck piece of shit' Mitsubishi Lancer. It was a comfy little car that did the job asked of it.
We needed to get a few things from the shops on the way to the hotel so we navigated our way to Northlands shopping centre Christchurch to grab supplies. A very useful little centre indeed and prices weren't too bad either.
We stayed at the Heartland Hotel Cotswold a quaint hotel with a Tudor theme. A gorgeous set of rooms with a huge bathroom and extremely comfy beds. I do recommend this a a great place to stay.
We arrived a little too late to attend the restaurant so we ordered room service. What a delicious repast we had. I chose the Seafood Taster – Maple marinated scallop wrapped in NZ bacon with lemon pepper hollandaise. Salmon mousse with salmon jerky. Garlic and chilli fried calamari with garlic aioli. Beautiful bites of taste and texture and the salmon jerky was awesome.
HR had the Chicken Shnitzel Burger – Chicken, garlic roasted field mushrooms, apricot chutney, lettuce, tomato and Barry's Bay Havarti cheese in a Turkish bun. Hand cut fries and garlic aioli
Now mine was an entree size but HR's meal was a normal main – it was humongous!!! and the hand cut fries were bloody amazing!!

We had Barry's Bay Cheese Platter to finish with – A selection of local cheeses from Barry's Bay. Crackers, sliced apple, toasted nuts, and home grown quince paste. Our first taste of the local cheese. Now I am going to make special mention of blue cheese – HR loathes blue cheese but now and then I get him to taste some and this reinforces his loathing………for the nonce


We had a great nights sleep and were looking forward to a quick trip up the road to Kaikoura for the next leg of our South Island exploration. That was until I mentioned our destination to the concierge and he informed us that the road we wanted was out of commission due to the earthquake in late  
2016. What would have been a 90 minute trip became a 6 hour journey through some of the most magnificent scenery!!! Unfortunately the next stage of the journey, to Blenheim, should only have been a couple of hours but with the road closure this was going to be a 6  hour journey. This meant that the Whale Watching tour we had booked at Kaikoura was not going to happen as it finished at 1530 and then we would have six hours on unknown roads in the dark. The Tour company offered a refund which was pretty darned nice of them.
At Kaikoura we stayed at the Alpine Pacific Motel in a basic but comfy room and we went to Coopers Catch for fish and chips. The batter was light and crispy, the fish fresh and tasty and the chips…aah the chips a veritable symphony of fried potatoes!!
Another good night's sleep and we were off to Blenheim!!!! (see the upcoming blog The Land of the Long White Cloud – Blenheim)