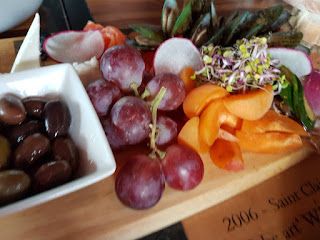 Land of the Long White Cloud – Blenheim
So from Kaikoura it was off to Blenheim – winery country! A beautiful scenic meander that took a little longer than we thought courtesy of the earthquake. Here we stayed at the Scenic Hotel Marlborough. A well situated hotel with lovely rooms and the wonderful Mondrians restaurant.
After checking into the Hotel we wandered off to have a look at Blenheim. A beautiful town with gorgeous gardens set out on an easy to navigate grid. There are no traffic lights in Blenheim, traffic control is via roundabouts. I think I could live in Blenheim, I really do.
After having a stroll round we dined at Mondrian's. What a lovely meal! I had the Seafood Chowder – Traditional style chowder with manuka smokes local fish king salmon and green lipped mussels, served with warm bread. What a delicious soup with so much warm bread. So good I had it again the next night. HR had 5 Spice Pork Belly – with orange ginger glaze, sesame parsnip mash and Asian slaw. To complete the meal we had the New Zealand Cheese Board – a selection of cheeses and died fruits with honeycomb an it was here that we were first introduced to Puhoi Cheese. Some of the most delicious cheeses I have ever tasted were on that platter including a smooth, soft creamy blue cheese that even HR enjoyed. In fact he enjoyed t so much he ate most of it. Who'd've thunk ? He who eats no blue cheese gorging himself on blue cheese!!!!!! A glass or two of  Vidal Estate Sauvignon Blanc to wash it all down with and voila!!!
A good night's sleep on a very comfy bed and it was time to do The Winery Tour!!!I have to say that the wineries included were well set up and very professional in their presentations.
We boarded a mini bus at 11:00 and with 12 others we trundled off to explore six of the finest wineries in the Marlborough Region.
We started at Spy Valley and after an informative spiel from the knowledgeable young lady looking after our group we commenced our tasting with a Pinot Gris 2016, the a Sauvignon Blanc 2016, Riesling Envoy 2012 and then a Pinot Noir 2014. I enjoyed the wines here they were fresh and fruity not too sweet and the red was most palatable. I generally don't like reds at all!!
I am in no way a wine buff but I would be happy to drink these wines regularly!!
Back into the bus and off to Framingham Winery .
Here we were escorted into a cellar for our tasting and it was very atmospheric with wine racks and barrels and historical memorabilia Again we tried , in no particular order, a Select Riesling 2016, Classic Riesling 2014, Pinot Gris 2015, Sauvingon Blanc 2015 and a Pinot Noir 2014. The whites were a little dryer for my taste but the Pinot Noir was really rather good!!!
Next stop was St Clair wines for more tasting and lunch. Seriously, the lunch was awesome but to my untrained palate the wines were vinegary. We dined at the Vineyard Kitchen and HR and I shared a platter A Celebration of Marlborough – with all produce sourced locally. Home made salmon gravlax, Marlborough mussels, Premium Game salami, home made wild game terrine,local olive, home made dip, garlic noir and home made bread. Every mouthful totally delicious!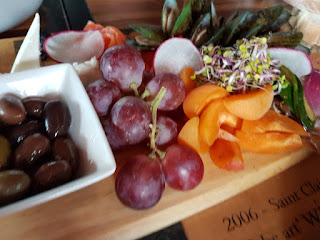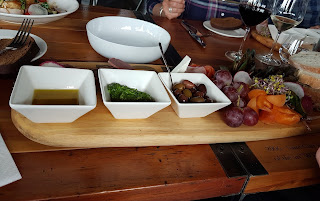 So many delicious tastes and textures and some really good company!!
From here the wines start to get blurry lol
Giesens was the next port of call and we tried the usual assortment of wines none of which stood out to me. I wonder if that is because we got desensitised as we went along.
Allan Scott wines was the penultimate winery and as well as the usual suspects there were a couple of quirky little numbers including some experimental wines they were toying with.
Whitehaven wines was the last winery and honestly by now HR and I are totally wined out. We declined the tasting session and went to get ice cream at a little shop called Sweet Treats at The Vines Village.
Our final port of call on this delightful excursion was the Makana Confections Boutique Chocolate Factory……what a perfect conclusion to a wonderful tour. Of course we bought some 'samples' including Macadamia Orange Biscotti, a selection of truffles and Macadamia Butter Toffee Crunch. The butter toffee crunch was the pick of a fabulous bunch and it is totally addictive.
Finally we were dropped back at the hotel and after an hours 'rest' it was dinner time and off to Mondrian's we went. Seafood Chowder for moi and HR chose Honey Stung Chicken Salad – tender roasted chicken thigh with a honey, sweet chili and lime glaze served with seasonal dressed greens and steamed vegetables. Naturally we had cheese afterwards. No wine tonight I drank Scotch and HR was drinking Speights Beer (more about that in another blog).
After a full day we slept well and arose in a timely manner for our journey to Nelson……..