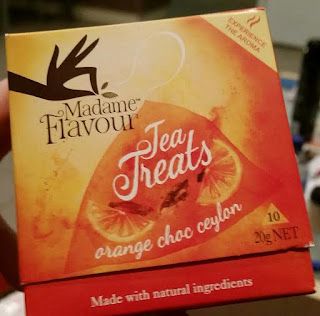 Tea for Me
Yes yes I know I have written about tea before but I just HAVE to rave about this new tea by Madame Flavour!!
There I was, shopping for my usual Delicate Green Tea with Jasmine and Pear when to my horror I saw that the shelf at my local supermarket was BARE!!!! OMG this is a disaster of EPIC proportions!!
How on earth am I to cope without my tea? I cast around the other shelves, poking packs aside to see if my tea was hidden perhaps and it as then I discovered the loose leaf version of my favourite tea. SAVED!!!!!I swept my eyes across the shelves one more time and it was then I saw an interesting orange looking box,' I must investigate' I thought.
I reached up to the top shelf and plucked a package and delved into my handbag for my reading glasses. Hmm another Madame Flavour tea. Tea Treats this particular selection is named, there are several others apparently.
The box that had caught my eye contains Tea Treats, orange choc ceylon Tea Treats. I thought that sounded quite exotically decadent, I simply MUST try, and so into the shopping cart with the little box of Tea Treats!!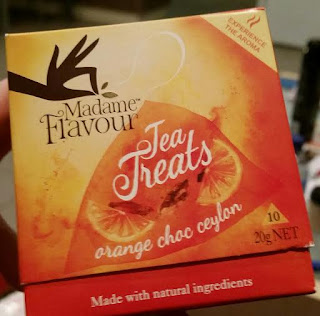 The box remained unopened for a few days and then HR was making a cuppa and I thought hmm I should try the new tea.
Well…
Let me tell you, that tea is like drinking dessert!!!!! The subtle aromas are delightful,orange and chocolate, like those little thin wafers you have after dinner (no not the mint ones, keep up here) or the chocolate oranges you get from Terry's. The smell alone was delicious.
The taste is DIVINE!! It's like actually drinking a Terry's chocolate orange. The ceylon tea does not overpower the taste of chocolate and orange. It is a beautifully balanced infusion that actually makes me feel like I am having dessert!
Given that HR and I are on a weight loss journey this tea is the PERFECT way for me to have an indulgence without the calories!!
Thank you Madame Flavour!!