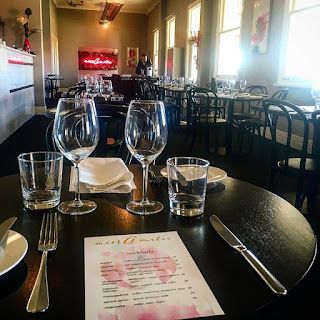 Miss Amelie
What a beautiful name for a beautiful restaurant.
Miss Amelie.
David Kapay has certainly created a very special eating experience in Wodonga.
Places Victoria has a lovely little blurb about Miss Amelie's origins, use the hyperlink to have a read.
I am going to tell you about our experience at Miss Amelie.
As you should know by now ( go read the blogs people, go read the blogs) HR gets one weekend a month as a weekend. HR likes to 'do something' on these weekends. 'Doing something' is generally HR code for going away. HR generally likes to find a good food experience on these trips.
Ok here is where it gets complicated but bear with me.
I am a Lions fan. David Kapay is a Lions fan. We both use Twitter. We follow one another on Twitter as Lions fans. David Kapay was Head Chef at 25Toorak Road (go and read the bloody blog!!!). HR and I dined at 25Toorak Road.
Right, connection established.
When David and his family returned to Wodonga to create Miss Amelie HR and I decided that at some stage we would make a trip to Wodonga and visit the restaurant.
Last weekend we made the trip to Wodonga. Less than 4 hours from home. A lovely drive down the Hume Highway. We stayed the night at the Comfort Inn Blazing Stump a very nice Junior Suite at a reasonable price.
HR and I are not late diners, we like to eat around 6 o'clockish. Of course we're flexible when we're 'away'. Table was booked for 6:30.
It was with a sense of anticipation that we drove out to Miss Amelie. Lots of parking was the first tick. Then a stroll around the old railway station absorbing the atmosphere before heading in to Miss Amelie.
What a lovely room!!!!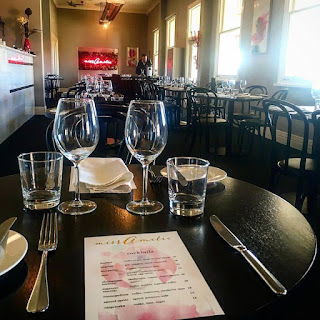 Simple, elegant, clean, black and white with glorious splashes of pink. I really like the fact we can see our chefs as they prepare the delightful foods for our delectation. Watching them interact with each other you could see they were truly happy to be there and totally enjoying their craft.
We had decided not to drink alcohol but when the 'Miss Amelie' cocktail was described to us it seemed a shame not to try one! I'll tell you the ingredients after I go back next time. Suffice to say it was a refreshing pink drink that was a lovely confluence of flavours.
The menu had just the right amount of choices. Some restaurants overwhelm with choices and that can be a pain.
HR chose the 'king prawns, café de paris butter, wild fennel, sorrel' and I had the 'seared scallops, butternut pumpkin, beurre noisette crumble, cured pig's cheek'.  I enjoyed trying HR's prawns, they were delightfully tasty. My scallops were perfect, a terrific combination of tastes and textures.
For mains HR chose 'goat shoulder ragu, pappardelle, green olives, pine nuts, meridith goat's cheese'. OMG it was to die for it was so awesomely delicious. I shall be having that next time! I had the 'seared duck breast, parsnip puree, poached rhubarb, macadamias + baby onions'. Never having tried duck before I was being brave and I am so gad I was brave (you can see images of all these delightful dishes at Miss Amelie Gallery). Crispy skinned duck breast beautifully presented and so delicious to eat.
Each dish was a symphony for the senses! Beautifully presented, the fine white china acting as a blank canvas for the chef to create a beautiful picture. The different textures and flavours combining to tantalise the taste buds. The delicious aromas tickling the nose.
The courses were not served one on top of the other but a perfect amount of time elapsed between them. It was great to watch the room fill up and hear the hubbub of happy diners around us.
HR and I were discussing retirement plans but the way things are going that will be a long way off!!
Of course we HAD to have dessert. Who has a peanut butter sandwich for dessert in a restaurant? HR does that's who. 'peanut butter + jam sandwich, raspberry sorbet, white chocolate crumb' I have never seen a peanut butter sandwich look quite that delicious (for the record I detest peanut butter but damn I was tempted to try this thing). I of course had the 'lemon soufflé, poppy seed sablé, french meringue, cheesecake ice cream. The soufflé was perfectly heavenly and a truly sublime experience in eating. I do LOVE a good soufflé. HR had a cappuccino and I had a green tea.
We left totally satisfied on all counts:
Terrific location
Great parking
Fabulous room
Wonderful atmosphere
Incredible food
Lovely staff
Reasonable prices 
As Molly Meldrum would say 'Do yourself a favour' and find the time to experience this all for yourself.
David Kapay and his staff have created a supremely wonderful dining experience that is accessible to all!!! Congratulations and keep up the good work.