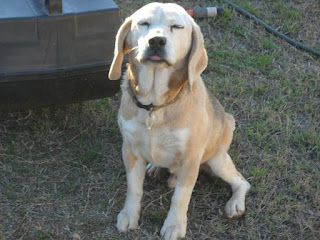 love me love my dog…or cat or….
Once upon a time there was a family of three kids and two adults (at least one of us was an adult not sure about HR). We had a cat and a dog and all was well with the world.
Morgan, the Beagle, was a great friend to The Normal Autistic Girl (even though he was really supposed to be the Mini Brat's dog) and Footsie (the abandoned cat from next door) ruled everyone and everywhere as befitting the Empress of Fluff.
Then one day the Normal Autistic Girl decided birds are what we need and promptly brought home Finches and Budgies. Of course Footsie, The Empress of Fluff, thought all her Christmases had come at once. Guess who got to clean the cages and feed the little feathered monsters?
The Normal Autistic Girl got a boy friend and they built a house and she took her birds thank goodness.
Then I turned the big five-oh. Let's do something special we thought (Harry Potter World had just opened at Universal Studios in Orlando) so off to the States we went. We took the Mini Brat with as she was still a little young to be left at home alone. Can that child spend money or what????
Just before we left for the States The Normal Autistic Girl and her by then fiancee decided to rescue cat brother and sister who were unwanted but their owners would not be responsible and spay the parent cats. Such irresponsible behaviour. I'd say that the adoption of the sibling kittehs had some bearing on what happened next….
Whilst we were away The Boy Child was looking after the house. He was in a relationship, they decided to 'have kids'…a cat (Lillith, who the F**K names a cat Lillith?)…several months later The Boy Child got 'divorced' and as always it's the children that suffer (or the in laws in this case) and Lillith became Skitteh.
At this stage the Empress of Fluff is around about ten years old and has been an only cat for all that time. Suddenly there's this little ball of attitude in her space. It took awhile but they finally learnt to live together and there is the odd photo of them actually sharing space.
Several years pass, The Mini Brat gets a boyfriend (who lives mostly with us for a few years) and he in his infinite wisdom decides that The Mini Brat needs a dog (remember we have two cats and a dog already) and thus Skipper comes into the house. (and YES I am the silly cow who feeds, walks, trains, looks after the bloody dog). Ultimately The Mini Brat and the boyfriend parted ways and then she moved out. This year Skipper was successfully rehomed. If I didn't work and had the time to spend with her, I would have kept her, but I didn't ask for the dog. Sounds harsh I know, but when I finally get a dog for me I want to have the time and space to treat that dog the way it deserves with love and affection, not just dump it in the back yard to be fed and patted when I can find the time.
Time passes and so do our furry friends. Morgan crossed the Rainbow Bridge 2014 and The Empress of Fluff was only a few months behind. It was such a sad loss. I have a great appreciation for Pets Rest In Peace, the company that took our beloved fur friends and cremated them, returning them to us with a beautifully presented Urn and remembrance pack.
Skitteh has blossomed without her bossy companion but I know she misses her.
Now Skitteh is an only pet. For most of her life Skitteh has been a purely indoor cat (Footsie, Empress of Fluff, played chicken with the cars one too many times and after many years as an outdoor cat she also became an indoor kitteh). In the last few months I have let Skitteh out the back while I hang laundry and the like. Several weeks ago I went to get her in before I went off to get my nails done and there is Ms Skitteh out the front, having jumped the fence, about ready to cross the road!!!!!!!!!!!!! Needless to say she is back to being a purely indoor cat again! However, Ms Skitteh does not appreciate my concern for her well being. Ms Skitteh sets up an unholy caterwauling when she thinks she should be outside, which is like all day every day!!!!
Ah well I'm happy to be a Crazy Cat Lady for now…….