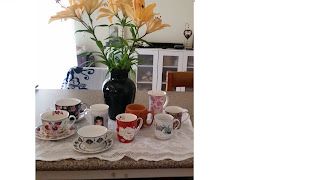 Let's Talk About Tea
One of the greatest pleasures in life is a cup of tea.
Back in the day I drank my tea white with two. Over time I cut out the sugar, then the milk. Tea was just a drink I had, nothing special.
I'd heard of green tea but never tried it.
One Christmas, about eight years ago, the Normal Autistic Girl went to The Tea Centre and bought me a green tea sample set and a beautiful cup and saucer to drink from. The right cup is a huge part of the tea drinking experience!
Using leaf tea was new to me I was the Queen of Tetley black tea bag!!  Using a teapot or diffuser was a novel thing and I figured if I was going to be serious about my tea drinking I really should learn how to produce the perfect cuppa!
Rule number one: ALWAYS use fresh cold water, NEVER reboil water. There is oxygen in the water and the tea needs the oxygen to produce its best flavours!!  There are a few other rules but this is the cardinal rule!
From memory I loved all of the different flavours in the sampler. I decided to go to The Tea Centre and have a look for myself and oh my goodness what a selection!!!!
I quickly found favourites,specifically Japanese Garden Green and Strawberries and Yogurt Green.
I also found some lovely cups for the drinking of tea and at one stage had a cup for black tea and a cup for green tea! Now I have so many cups I could open my own store. Here are just a few.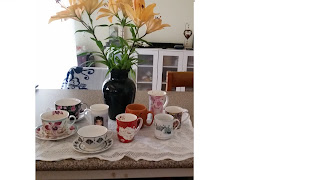 Of course I love brewing tea in a pot. Not just any tea, not just any pot. Christmas before last, HR bought me this beautiful tea pot and cups. Every time my friend from down the hill comes to visit we brew tea in this pot and sit there savouring the brew and our friendship.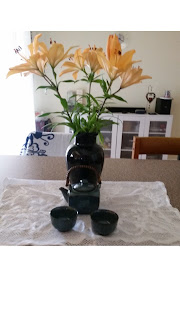 Sometimes I just brew a pot of tea for myself in almost a meditative state.
I make a ritual out of making the tea, nowhere near as solemn and beautiful as the Japanese Tea Ceremony but in thoughtful contemplation of my actions and the alchemy that makes a simple leaf into a restorative refreshing drink. This process allows me to appreciate the simple things in life and, for a moment, not take for granted an everyday process.This in turn helps to calm and order my thoughts.
Clumsy prose but sometimes it is difficult to put a feeling into words.
 I was moved to not only go to the Tea Centre but to look at different brands on the shelf at the supermarket. There were two brands that struck me at the supermarket Dilmah and Madame Flavour.
Dilmah had a lovely Jasmine petal Green Tea . A lovely Jasmine scented and flavoured tea in tea bags that is quick and easy to make in the work place and I keep a box at The Dragon Lady's place too.
 One time the local supermarket had a feature of Dilmah's flavoured teas and one of the most delicious tasting and smelling was/is the Peach Flavoured Tea. A black tea that had the most awesome smell of peaches. After the promotion finished at the local supermarket I had to actually buy the tea from Dilmah direct! Always a lovely experience, I was always sent a sample of their other teas and once a year a calender was sent as well.
I would alternate the Jasmine and Peach tea during the day. and then I discovered the Madame Flavour range.
It was from Madame Flavour that I first heard of White Tea!! Her Romantic White with Rose is a delicate tea that is perfect for those quiet moments alone. It is to be savoured in an atmosphere of peace and calm, and NEVER rushed!
My other all time favourite is Madame Flavour tea is the Delicate Green Jasmine and Pear. 
This tea has a lovely drift of pear added to the Jasmine and it is not just pear flavouring but actual pear pieces! I can drink this tea all day every day!
For me tea is not just about the intake of a fluid, it is about, choosing the right tea for the occasion, the right cup for the right tea, the process of making, and then the quiet contemplation whilst slowly savouring the special brew.
I hope you enjoy exploring the linked pages and maybe finding a new brew for you!!