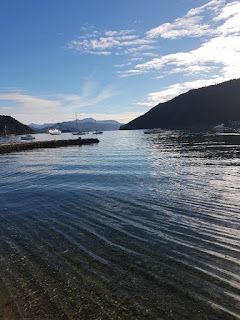 Land of the Long White Cloud Nelson
The roads in New Zealand's South Island are pretty good. Lots of road repairs going on in a timely manner and not impacting travel times too much. Mostly one lane either way with odd little slow bays and some overtaking lanes. The traffic is not heavy and….get this… if a vehicle is slow and holding up traffic they will find a safe place to pull over and let that traffic pass them!!!!!
After playing dodgem cars on the Warrego Highway for 18 years I was astounded by this courtesy!!!
The trip to Nelson was, once again, through some gorgeous scenery and uneventful.  We stopped by Picton for breakfast at the Seabreeze Cafe an Bar. While we watched the Picton ferry ply its trade to the North Island we ate divine French Toast with streaky bacon, banana and maple syrup (me) and Wairau Valley Free Range Eggs and streaky bacon (HR). Delicious food with awesome views.
After a stroll down the main street we continued our journey to Nelson.
HR and I are not huge fans of Nelson it just didn't 'feel' right for us.We did a little shopping and bought some pastries for lunch then moseyed on over to that night's accommodation.
We stayed at the Grand Mercure Nelson Monarco and received an upgrade on arrival. A visually appealing set up looked like a typical English Green surrounded by houses.
The rooms were very comfortable and beautifully appointed comprising a sitting room, kitchenette, huge bedroom and spacious bathroom.
After a walk around the beach we opted for fish and chips for dinner and were very underwhelmed with the food. 
An early night, then back into the 'obnoxious as fuck, piece of shit' (thank you Mini Brat) and off to Franz Josef…..