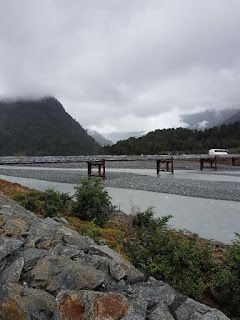 Land of the Long White Cloud Franz Josef
March in Australia is still very warm. March in NZ is cooler and damper but at no time did we feel really cold Thankfully the rain confined itself to the days we were driving except at Franz Josef..
The drive to Franz Josef was another wonderland experience. The greens seem greener, the air seems cleaner, everything seemed so much more majestic.
We arrived mid afternoon and settled in to the
Bella Vista Franz Josef.
 A clean and serviceable room perfect for sleeping and well situated for going off exploring.
Was a little confused as to why we had been housed in Franz Josef when were to do our
Terminal walk
on Fox Glazier half an hour away….
We walked up the main street of Franz Josef and bumped into a lovely couple who had been on the wine tour with us!!! After we parted we went to Alice May Cafe for a cuppa and cake (sorry no websites) excellent service and top cakes! then we went for a walk up  the road to the bridge on the way to Fox Glacier. It ws raining lightly and we gor drenched but who cares?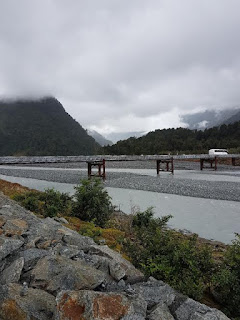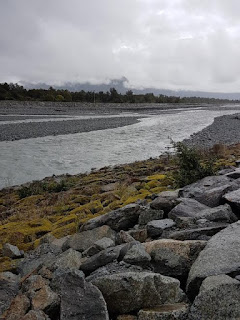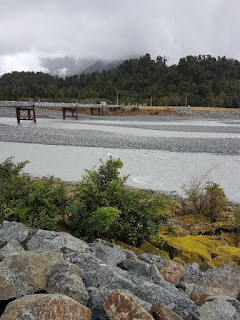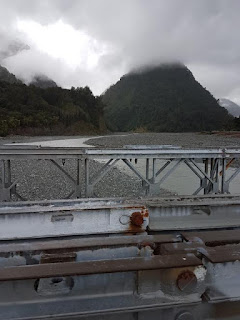 After a soggy walk we ventured a little further abroad and found
King Tiger Restaurant
. Chinese feast here we come!!! Fried rice, dumplings, chicken and sweet corn soup and satay beef!!! Delicious!!
The next day we drove to Fox Glacier and checked in for our walk. Our guide was a real life honest to goodness Sherpa!!!! (see the picture below).We were given a brief about our impending walk, then we suited up in rain gear, warm socks and boots and into the bus for the short trip to the start of our walk.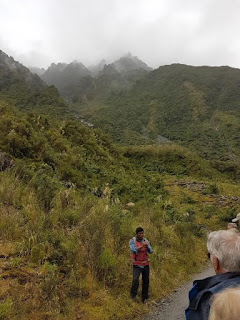 Deceptively flat at the start we were soon huffing and puffing on our way to the top of a seriously steep climb. I don't have a picture that really shows how steep the climb was. Suffice to say not all of our group made it to the top. I almost didn't but dammit I wasn't going to be beaten!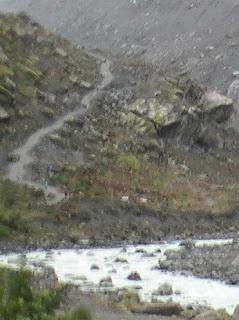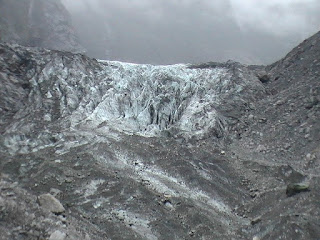 What a great experience that walk was.Actually completing the walk was exhilarating!  
After we had returned all flights and walks were cancelled due to the weather. 
Back in Franz Josef we had a late lunch and then went to explore some of the other walks around the area.
Dinner was cold meats and cheese from the local supermarket. After all that exercise we slept very well  after all we had to drive to Queenstown on the morrow…..