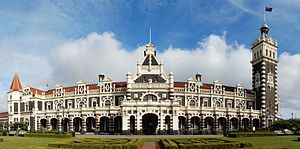 Land of the Long White Cloud Dunedin
Dunedin is beautiful.
Dunedin is also flat, compared to Queenstown anyway.
I love Dunedin.
HR and I rolled in from Queenstown looking for a public convenience. All this travelling takes a toll on the old bladder you know.
We saw the most beautiful old building and realised it was the Dunedin Railway Station
This magnificent building, designed by George Troup was opened in 1906. A majestic building indeed! And it had a loo ….
There's a heap of cheap parking to be had here. So we parked the 'obnoxious as fuck piece of shit' and scurried to the train station. Having relieved ourselves we took the time to explore the station and see if there was a train trip we might take that afternoon. There was nothing appealing, we had been in the car for several hours so were really looking to be ambulatory.
Across from the car park was a cafe and as it was lunch time HR and I wandered over to peruse the menu. The Ionic Cafe and Bar does not have a website for me to link to but I do recommend it as a place that serves awesome liver…yes people LIVER!!! I have no idea what HR ordered I had liver with bacon and it was delicious. Used to be that liver and bacon with mashed potato was a staple of the pub menu and with a family that refuses to eat the stuff I used to rely on the pub counter lunch to get my liver fix.
After a satisfying feed it was time to walk….and walk we did right to the Chinese Gardens! Dunedin has a sister city relationship with Shanghai. The gardens are beautiful and I could have spent hours there. Perhaps if HR and I retire to New Zealand (yes it is on the cards) I will pend a lot more time there.
After a lovely hour or so wandering and experiencing the gardens we collected the vehicle and toddled off to the Scenic Hotel Southern Cross. What a lovely hotel! Great reception staff and the concierge/valet was terrific, parked the car (free valet service thank you very much) and got our bags up to the room for  us. The room was lovely – clean and comfortable.
We had a Speights Brewery Tour booked for 7:00 pm, so while a had a nana nap HR went to scout the location.
A little before 7 we sauntered downstairs and across the street to the brewery. Well what a tour that was!! Worth every penny and more. Hint – take the later tour as the earlier ones are totally booked and have too many people to be comfortable – in my opinion anyway.
Our group consisted of seven people including us. Our tour guide was very amusing and informative and he really did know what he was on about. The best part of the tour of course is the tasting right at the end. We tried everything they had on tap and I have to say it was all very drinkable including the cider!!!
Returning to the hotel we discovered we were a mite hungry and so we perused the room service menu. It was almost 9 at night and we wanted something light but satisfying as we had not had dinner.
The Scenic has three dining options and the one we ordered from was the Ports O' Call Bar and Grill who had an Antipasto to Share dish on their menu. Smoked and cured meats green lipped mussels, garlic prawns a variety of cheeses, pickled vegetables, dips and artisan bread selection . What a delicious feast washed down with more of Speights cleansing ales!
The time in Dunedin was way too short and when we return to the South Island we will make sure we have enough time to get to the castles and partake of the high teas!!
We have one more trip – back to Christchurch – where it will all end…….