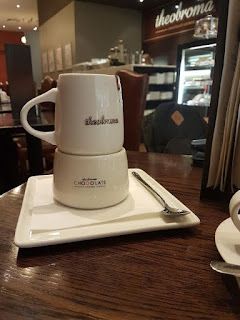 Land of the Long White Cloud – the end
We left Dunedin the next day….
We would return to Christchurch for an overnight stop and then fly home via Sydney.
We stayed at the
Sudima Christchurch Airport
and for an airport hotel it was excellent! Plenty of parking, well appointed rooms and a great restaurant –
Acheron
 – but we'll get to that later.
It was a bittersweet return as we wanted to spend more time exploring Christchurch but, we were at the end of the trip ad we both felt a little sad.
After checking in we decided to go do a little souvenir shopping and off we went to
Westfield Riccarton 
and meandered around. We hadn't had any lunch and dinner was a long way off so we looked or a place to have a cuppa and a snack…we found
Theobroma
.
Ostensibly a chocolate shop Theobroma also serves beverages and delicious foods – 
Menu
HR had a hot chocolate which was served in  lovely shaped mug with  warmer under it, HR was so impressed he had to buy the mug and warmer!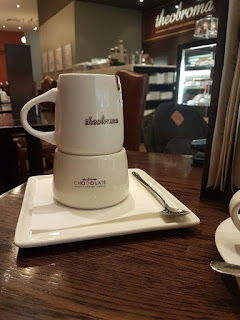 I ordered the Honey Dew Green tea – refreshingly delicious.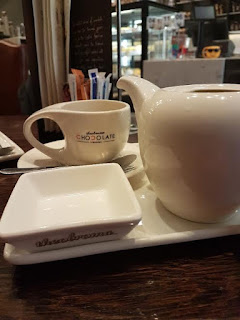 Now we decided that a proper lunch would ruin dinner so we settled for Pancakes served with ice cream and drizzled with maple syrup.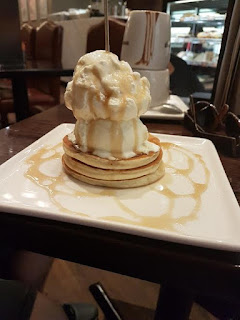 It was as delicious at it looks!! Totally brilliant choice.
We wandered around some more and then returned to the hotel to repack suitcases and sort laundry before going down to the restaurant for dinner.
I ordered the Seafood Chowder of course and HR chose the Bacon Wrapped Chicken Supreme stuffed with onion marmalade and walnuts / herbed potato rosti, pineapple salsa and pepper corn sauce. I was delighted with my chowder and the chicken kept HR quiet for awhile so it must have been good. Naturally we had NZ Cheese Board Selection of Kikorangi Blue Cheese, Pakari Aged Cheddar & Brie served with assorted crackers, grapes, dried fruits & nuts to finish the meal and once again we were delighted with New Zealand cheese.
We availed ourselves of the delicious buffet breakfast the next morning before heading to the airport.
And so we dropped of the obnoxious as fuck piece of shit' and checked in for our flight to Sydney.
It was with great sadness we left the Land of the Long White Cloud but we have plans to visit the North Island and then revisit the South ……