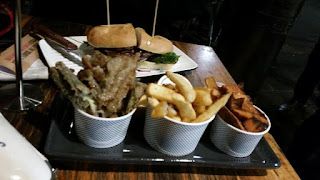 Blah
It really has been a shitty week.
It was a week I wish had never happened and I guess the coup de grace was watching the Brisbane Lions not even try in their game against Carlton and subsequently get beat by 38 points.
There were maybe one or two high points in the week and these are what I will write about.
The first highpoint was Friday night. After working late ( DO NOT get me started about my supervisor saying I am not allowed to accrue flex but hey you need to be here for like more than the mandated 7.5 hours a day) I arrived home and greeted HR (bastard finished work almost three hours before me and he works in the same place) with the usual 'what's for dinner?' As usual he mumbled shrugged his shoulders and said 'what do YOU want?' Nothing is designed to drive me from calm to ballistic quicker than this typical HR response to any question I might ask. How the hell he makes decisions at work I have no idea!!!!!!!
Anyway, I digress.
Taking a deep breath, I refused to be riled by HR's irritating response, and made a snap decision; 'lets' go shopping' I said 'we can get some dinner while we're out.' HR said where do you want to go? It took more than a deep breath but, I retained my equanimity and said 'hey I chose what to do about dinner you choose where we go' Whereupon he chose a shopping venue and off we went.
Sadly we didn't get to his choice of shopping venue because he got lost. Yes my darling husband got lost. So we went to another shopping venue that we knew had a good selection of eateries.
Now earlier in the week I mentioned to HR that as we are now living in a new state it behoves us to explore the area within a three hour radius of home. He was amenable to such a suggestion and I further suggested that it would be cool to have a huge map of the state on the wall and draw some concentric circles at a one hour, two hour and three hour radius from home. We could place the map on the wall in the computer room and turn it into a little planning cell. HR agreed this was a good idea and so whilst we were out and about on Friday evening we purchased the appropriate map and pin board!!Of course the map was purchased in a book shop and of course I had to look at the books didn't I? I bought a couple of books (Bernard Cornwall 'Gallows' Thief and Ronnie Barker 'A Few Well Frozen Worms' I also picked up a couple of DVD/Book compilation one is for the Normal Autistic Kid 'The Grand Finale of British Steam'(she is mad keen on steam trains) she can have it next time I fly into Brisbane. I also found a truly awesome burnt orange sweater so I bought that too.
It was time to eat!
We strolled along the eatery walk way to see what was there. We had sampled the Dumpling House on a previous visit and would have been happy to revisit but it was so damned busy!!!! We decided to check some of the other places out and if push came to shove we would go dumplings.
There was a Nandos, not a lot of takers there, a Vietnamese place was as packed as the Dumpling House and the Thai restaurant was the same. We weren't in the mood for Indian and the Turkish place was too far away ( though I am partial to Turkish food) and we weren't up for Schnitzels or Snags. That left Grill'd (Healthy Burgers). Grill'd was well patronised and we figured why not? I am so glad we did!!
Now keeping in mind that HR and I are doing the whole diet/change of eating habit thing I suggested that we should share a burger and some chips. HR agreed (especially as he thought it might mean we could have some ice cream later for supper).
After some deliberation we ordered the 'Back Bar'; Grilled 100% grass fed scotch fillet, crispy trim bacon, mesculin, feta, tomato, Spanish onion, tomato relish and herbed mayo. We teamed it up with a Chips Share Platter; Grilled Chips, Sweet Potato Chips, Zucchini Chips, served with a trio of chip dips.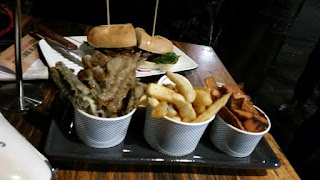 Every last bite was delicious!!! We were so glad we decided to share cos DAMN!!! There was so much food!! We are SO going back there!!
Yes we did have ice cream for supper, believe it or not a Coles brand Banana cone thingy. Not bad at all actually.
Saturday we slept late and then I totally needed my nails doing so we set off down the road. While I got my nails done HR scoped the nearby cafe's to find a suitable spot for brunch.
Now let me tell you, in QLD it took two year hard work to find a decent nail tech (miss you Shayliegh) and so I am in the process of trying to find a decent one in the new location. This is the result of today's effort;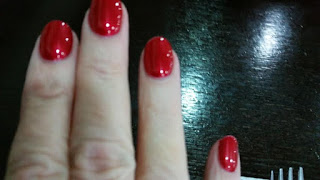 Not too bad but I like a bit of conversation whilst I am sitting there getting nails done and old matey (yep he was male) said diddly squat. So I guess the quest will continue.
We went to a cafe on the main street for brunch. Sadly I forget the name, but I will never forget the Eggs Benedict!! The Hollandaise sauce was pretty close to the best I have tasted. It is always so obvious when places cheat and use a packet mix, but not this place the sauce was amazing, the bacon was crispy and the poached egg was delightfully yolky. I was a little bemused by the serve of chips on the side though. We could have shared one serve of this too but I ignored the toast (mostly) and didn't eat a chip!!! We will go there again I am sure and then I will get the name for my next foodie blog.
Right then the Giants have fallen to the Cats and as I type Freo is in front of the Bombers (Freo is between us and a wooden spoon. I'd rather they had it than us) and WTF is going on at Metricon? The Suns are in front…..ah well tipping is a mugs game.
Hopefully next week is better than this last one…………..