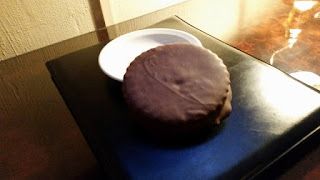 To the Manor Born…….
HR and I have been gallivanting about the countryside yet again.
I finished early on Friday and fled the Crypt with indecent haste, got home, packed a bag, grabbed a traveller and HR and off we went.
It's my birthday next week and we will both be working so we figured we'd take this weekend and go do some birthday type stuff.
I decided I wanted to go to Miss Amelie for dinner and that we should stay somewhere nearby so we could grab a cab and both be able to enjoy a drink with dinner. So Albury/Wodonga was our destination.
Three hours into a four hour drive I mentioned coffee to HR and we promptly pulled into Holbrook.
Now I may have mentioned J&B Cafe in Holbrook as being an excellent purveyor of Eggs Benedict and entirely drinkable tea and it is to this establishment we made a beeline only to find them closed.
So HR executed a quick U turn and we moseyed on in to the Holbrook Bakery.
Well what a bloody revelation!! They have almost any baked good you could desire and it all made on the premises.There are prize certificates proudly displayed in the window for their pies.
They have THE most divine Apple Crumble and the columbine donut thingy HR had  was filled with delicious custard and Chantilly cream and was very very very decadent.
Then HR spotted the Wagon Wheels. These Wagon Wheels are freaking ginormous!!!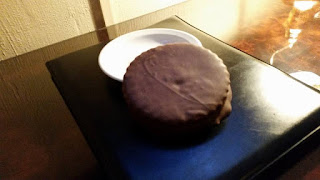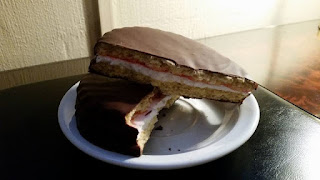 We bought two for spares on the Sportage and trundled off to our weekend destination (The Wagon Wheels are delicious by the way).
We have stayed in various hotels throughout the Albury/Wodonga area and while they are all good clean places I wanted something different.  I decided to use the TripAdvisor app on my phone to have a look – and found the Albury Manor House.  What an awesome place! " The Albury Manor House is a truly individual 4 star boutique establishment that offers character and warmth in an English Tudor Style"  Reception has two suits of armour, each a different knight. The restaurants are Elizabethan themed ( we had breakfast at Hampton Court) and the room we stayed in was called Queen Elizabeth I Suite.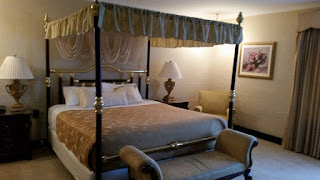 A beautiful King size four poster in a huge room with comfy lounging chairs and a cute little tea table and chairs, beautiful bedside cabinets and credenza, and a generous size bathroom with a spa. A range of pillows was provided and even though HR and I bring our own pillows, HR used the hotel pillow and was well pleased. The bed was really comfortable. The best thing? The MOST sensible thing? The thing that really will have us coming back again? There were FOUR, yes FOUR, towels in the bathroom. The women get it……
 HR and I do not get up early when we travel and so it was almost nine before we chose to break our fast.
Breakfast at Hampton Court was a buffet affair and well provisioned. A choice of warm croissant, English muffins or toast with all the condiments one could wish for as well as yoghurt and fruits, cereals AND they even had my green tea with Jasmine.
Hampton Court overlooks the swimming pool and the sound of the water fall was very pleasant.
The Albury Manor hotel is a very popular wedding venue and they even have their own stretch limmo!! We decided that rather than share a dining room with pre wedding guests we would forage afar and eat in our room. Hopefully we can try some of the restaurants next time (February next year I have made an executive decision!) and of course Saturday night we went to Miss Amelie.
Stayed tuned for the next Blog where we discuss the discussion (screaming argument) outside Brown Brothers Winery and other interesting Saturday events…….