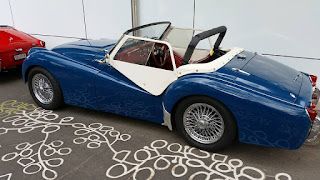 talking to brick walls
Quick recap: HR and I are away for the weekend and so far so good (see To the Manor Born Blog).
It's Saturday morning and we've just had breakfast at Hampton Court. Up to now HR has been reasonably communicative. Seriously if HR didn't have shoulders he would NOT be able to communicate – shrugs once for yes and shrug twice for no.
Anyway, thus far, 0945, and all is well. 0955 and he has ignored me (reckons he didn't hear me, old mongrel is going deaf too it seems) and we get into the car cos we are off to Rutherglen, apparently its a food and wine zone. Only 45 minutes down the road so not all day in the car.
On the way out of Albury, down the main street and what do we see in the park? Oh YES a Triumph Rally! Heaps of the classic little cars of all models……
HR and I browsed the cars for a little while and I engaged a perfectly lovely Nanna in chat. HR was not very forthcoming about the cars when I got back to him.
After we looked at the lovely cars it was time to resume the trip to Rutherglen.
For the next 45 minutes I try to engage the curmudgeonly HR in conversation and get donuts, zip, zilch, nada, Sweet FA.
I get a little agitated as most women would under the circumstances. So when he asks ME a question I ignore him. I ignored him only one time, not multiples like he has me, oh no just once and he lights up like a Christmas tree, huffing and puffing like a freaking steam train!!!!!!!
So he asks again did I want to go to Brown Brother's winery (another 45 mins down the road, remember I didn't want to spend all bloody day in the car) and I tell him to please himself (with a few expletives for good measure) and remain totally silent for the whole time it takes to get there.
We duly arrive at the winery and he asks if we are getting out and I let him have it with both barrels!!
How on earth could he expect I would want to go into the winery ?
We sat in the car park for 30 minutes and 'discussed' the issues. Then we left.
By the time we left we had come to an accord.
We would revisit the winery next time we are in the region (Feb 17)
We would go and find some food (emotional outbursts make one very hungry)
We would enjoy the rest of the afternoon
and we did…..
We grabbed some schnitzel burgers from Schnitz and went to the Botanical Gardens in Albury for a picnic. It was lovely in the gardens, a tad breezy and the food was decent.
HR lived in the region when he was a youngster and he indicated it would be cool to have a wander down memory lane.
Off we went to Bandiana. We saw where he went to school and the vacant land where his house had stood.
On the way out we noticed a sign for the Bonegilla Migrant Experience and HR obligingly turned off the main road for me to have a look.
Now almost fifty years ago I arrived in Australia from the 'Mother' country and as Dad was joining the Royal Australian Air Force  we were promptly housed at the Smithfield Migrant Hostel in South Australia (recruit training was done at RAAF Base Edinburgh in the 'old' days). Visiting the Bonegilla Migrant Experience reminded me of the months we spent in that drab establishment before we were sent to Norlane Migrant Hostel when Dad had to go to Victoria for his category training after recruits.
Norlane had Nissan huts unlike the other two hostels that had barracks. While we had our own 'rooms' we used communal bathrooms and eating halls. It was very thought provoking wandering through the buildings and recalling things I hadn't thought of for many years.
The last port of call for the afternoon was the Hume Weir.
Awesome scenery!!!!! and apparently a popular place for Brides to have wedding shots taken.
By now it is time to go back to our fabulous hotel and get ready for dinner…
Dinner at Miss Amelie………