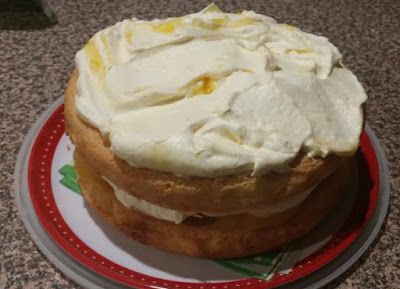 Lemon Tree
One of my many tasks at The Mausoleum is data validation. Sometimes the reporting functionality of  the systems I use becomes corrupt. When this happens I go to see The Guru. The Guru knows all and is a pretty good bloke all things considered. However, consultation with The Guru comes at a price – cake!
Depending on my mood I normally buy the cake, sometimes though I am moved to actually bake…from scratch. My 'go to' cake is a Lemon Curd Sponge.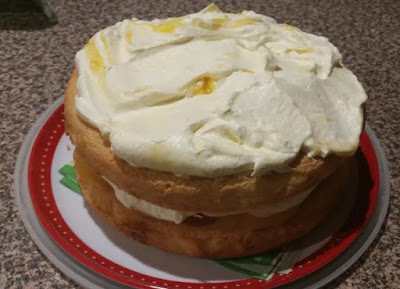 Now I am NOT a cook by any stretch of the imagination.. but I do manage to make a ripper cake:
4 eggs
3/4 cup caster sugar
1 cup self raising flour
1tbsp cornflour
1/3 cup boiling water
10g butter
1/3 cup lemon curd
600ml whipped cream
Preheat oven180C
Lightly grease and line two 20 cm sandwhich pans with baking paper.
In a bowl, using an electric mixer,beat eggs for thirty seconds until frothy.
Gradually add sugar until thick and pale and mixture holds its shape (could take 10 minutes).
Sift flour and cornflour together.
In a jug combine water and butter.
Gradually fold flour lightly into the egg mixture, followed by the water mixture.
Pour mixture evenly into pans.
Bake 20-25 minutes until sponge springs back when lightly touched
Turn cakes onto tea towel covered cooling racks.
Cool completely.
Spread one cake with 1/4 cup Lemon Curd and half the cream.
Top with second cake. Dollop spoonfulls of remaining cream on top of cake followed by spoonfuls of Lemon Curd, gently swirling the Lemon Curd through the cream.
This cake tastes divine. The smooth, almost blandness, of the cream is saved by the delicious tang of the Lemon Curd (yes I did use the recipe in the Lemon Curd link and made the curd from scratch ). The cake is merely a vehicle to deliver the delicious confluence of flavours.
I hope you enjoy the cake as much as we all did at The Mausoleum!!!